Susan's Books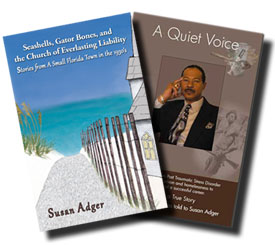 Seashells, Gator Bones, and the Church of Everlasting Liability, and A Quiet Voice are completely different genres.
Seashells... is a series of short stories from the 1930s about a fictional Florida town where simple country folks just doing their best find themselves in one predicament after the next.
A Quiet Voice is a memoir of a Vietnam veteran, Eugene Hairston, who went from a life of drugs, crime, and eight years of homelessness to a management position at the Bay Pines Medical Facility, and today he speaks at VA conferences throughout the country, telling his inspirational story.
___________________________
And, as a follow up to the Seashells book, Moonshine, Muffins, and a Girl Named Bob is next in line. In preparation for that release, see the author interview below.